WD+ ENERGY SOLAR ENERGY MODIFIED SINE WAVE INVERTER SELECTION SHEET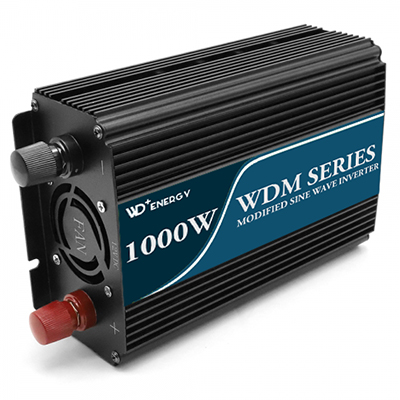 Detail Infomation
WDM SERIES MODIFIED SINE WAVE INVERTER
Modified sine wave inverters can meetall kinds of electrical loads.
Protections:short circuit, high temperature,overvoltage,low voltage,short circuit,overload protection and other functions.
Advanced circuit design,high conversion efficiency,rich interface,stable output voltage.
Metal enclosures,reasonably designed and good heat dissipation.
Advanced anti-interference technology,full-featured protection circuit and soft-startcircuit,convenient operation mode.
Soft-start function to eliminate cold start failure,instantaneous drop and fast recovery function to reduce the instantaneous overload when start-up.
Main Specification
Model:
WDM1000
WDM1200
WDM1500
WDM2000
WDM3000
WDM5000
Max Containuous Power (W)
1000W
1200W
15000W
2000W
3000W
5000W
Peak Load Power Rate(W)
2000W
2400W
3000W
4000W
6000W
10000W
Input Voltage (V)
DC12V/DC24V/DC36V/DC48V/DC60V
Output Voltage Range (V)
AC110V/AC120V/AC220V/AC240
Output Frequency (Hz)
50Hz or 60Hz
USB
USB
Output Waveform
Modified Sine Wave
Cooling
Fan
Product Size (MM)
262*150*76
265*150*76
307*150*76
393*150*107
454*180*142
598*180*168
N.W. (KGS)
1.6kgs
1.7kgs
1.9kgs
3.3kgs
4.9kgs
8kgs
Packing (MM)
640*425*290
640*425*290
640*425*290
645*485*345
505*505*430
672*252*237
PCS Per Carton
8pcs
8pcs
6pcs
6pcs
4pcs
4pcs
Similar Products