WD+ ENERGY 1KW-5KW OFF-GRID WIND POWER SYSTEM SELECTION SHEET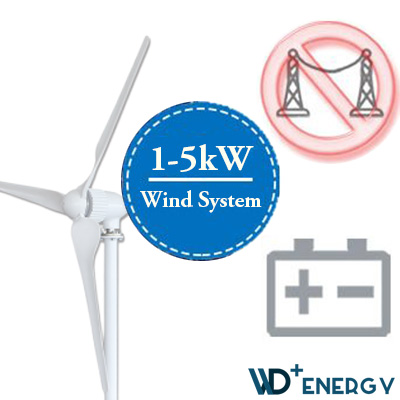 Key Specifications / Features
Model No.: Hits: 10
Off-grid wind system is suitable for regions without grid connection or power instability . Off grid wind energy systems including solar module ,storage battery ,controller ,inverter ,mounting brackets etc .
Request a quote
Share
PDF
Detail Infomation
Off Grid Wind Power System
Features:
1.Low start up speed, high wind energy utilization;
2.Easy installation, tube or flange connection optional;
3.Blades using new art of precision injection molding, matched with optimized aerodynamic shape and structure,which enhance the wind energy utilization and annual output;
4.Body of casting aluminum alloy, with 2 bearings swivel, making it survive stronger wind and run more safely;
5.Patented permanent magnet ac generator with special stator,effectively reduce torque, well match the wind wheel and generator, and ensure the performance of whole system;
6.Controller, inverter can be matched according to customers' specific needs.
MAIN SPECIFICATION
Model
WDW1KW-OFF
WDW2KW-OFF
WDW3KW-OFF
WDW5KW-OFF
Wind Turbine
1 Set
1 Set
1 Set
1 Set
Guy Cable Pole
1KW
2KW
3KW
5KW
Controller
1 Set
1 Set
1 Set
1 Set
Inverter
1KW
2KW
3KW
5KW
Battery
Customized
Mounting Structure
On Roof / On Ground
Cables
Battery cable & PV cable
MC4 connector
1 Set
System Vac
110V,120V, 220-240V, 110/220V, 120/240V
Remarks:
The Above System Configuration For Initial Designing, The System Configuration Are Subject to Changing Depends on Your Final Installation Conditions and Requirements.For More Details, Please Send Your Inquiry To WD+ Energy Team. Thank You!
Similar Products